Pain resource: 'Navigating Pain'
Finding the right path for your pain management journey
One in five New Zealanders live with persistent pain such as osteoarthritis, headache or low back pain. Living with pain is challenging - making it hard to sleep, work, and enjoy life.
A team of health professionals from the New Zealand Pain Society, including physiotherapists, psychologists, nurses, doctors and occupational therapists have put together this booklet to help you understand what you can do to manage your pain.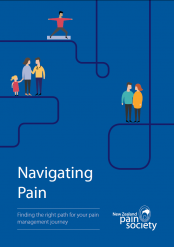 It contains the key things health professionals suggest trying when you have persistent pain of any type, no matter how long it has been around for. We hope it will help point you in the right direction to better enjoy your life.
Click here to download the full booklet (digital version, pdf)
Printing: Click here to download a printer friendly version of the booklet (pdf)
Printed copies can be ordered from BlueStar Marketing in Auckland - please email Penny.Watt@bluestar.co.nz for a quote.
Recommended Resources:
If you would like to learn more about the topics covered in the booklet we suggest the following links:
Understanding pain:
Understanding your situation:
Movement:
Sleeping well:
Helpful thinking: